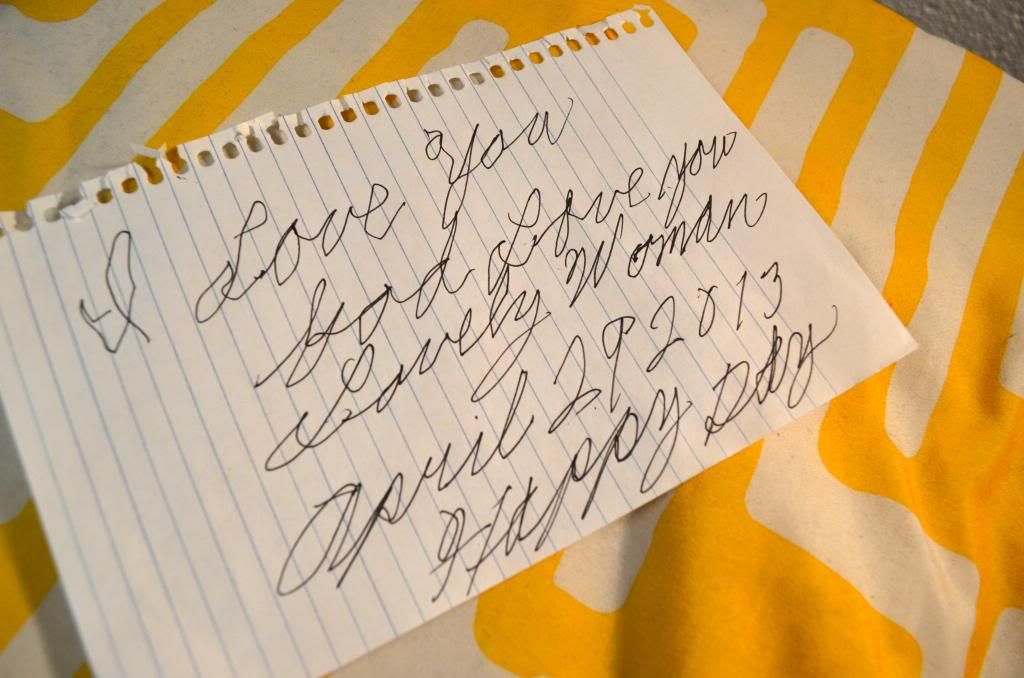 Every week, there's a Bible study for adults who have developmental disabilities. It's a great time. We color and sing and talk about Jesus.
Since I've gone this semester, I've gotten to know Ronnie pretty well. He's great. I see God working through him.
Like in this note. (In case you can't read it, it says
I love you. God love you. Lovely Woman. April 29, 2013. Happy Day.
) He writes this same exact thing every couple of weeks, usually he gives it to another resident in the home he lives in, but today he gave it to me. Granted, he gave one to someone else right after, but still, it touches my heart.
Every week we pray over whatever needs people have and Ronnie always asks for prayer. Never for him though. He always asks us to pray for the people inside and the people outside. And the world. Literally everyone. I love his concern for the whole world.
We also sing Glory to God every Bible study. Ronnie doesn't really sing the other songs, but this one is his favorite. He only sings the chorus though. Actually, he only sings "glory to God." Over and over. And loudly. And out of tune. He pretty much yells over everyone. But shouldn't that be how we all are? The world would be a better place if we were all that preoccupied with giving God glory.
This is one of my favorite things about working with people who have disabilities. It reminds me that we're all just people looking for friendship. We are created to reflect the Creator.
I'm thankful for Ronnie's encouragement and friendship.
As he would say,
Happy day, everyone!